Clean.

Cruelty-Free. Zero Waste.

Beautiful.

Meet Izzy, the world's first zero waste beauty line. Izzy is taking big steps to reduce plastic waste with clean and cruelty-free products that are 100% reusable, 100% recyclable, 100% certified CarbonNeutral®, and 100% gorgeous.
Zero Waste

Really
Means

Zero Waste

Izzy beauty products come with no outer packaging, and are shipped in reusable mailers manufactured from upcycled materials.

Our medical-grade, American-made stainless steel tubes are designed to be cleaned and refilled over 10,000 times, so you literally never have to throw them away.

Our products contain 94% less plastic than the leading brands. What little plastic we do use is reground and recycled at our facility.

Even the water from our patent-pending antibacterial cleansing process is reused, rather than dumped into the ocean.

All of our manufacturing takes place within a 400-mile radius, which means that our carbon emissions from transportation alone are exponentially lower than those of any other beauty brand. Compared to the industry standard, our products have a 78% smaller carbon footprint after 25 refills. The more our products are reused, the smaller our relative carbon footprint becomes over time.

Thanks to our breakthrough membership model for replenishment, we can incentivize reuse and generate zero waste from start to finish.
---
Izzy

Is Clean

Not only are our products formulated by the same filler that currently services some of the world's leading prestige beauty brands, but they are clean, cruelty-free, vegan-friendly, and free of gluten, GMOs, alcohol, oil, parabens, phthalates, silicone, and talc.
---
Izzy

Gives Back

Izzy is passionate about leaving the world a better place than we found it. That's why we donate a portion of the proceeds from every Izzy purchase to three foundations that inspire us: the National Forest Foundation, Her Justice and Pencils of Promise.
Zero
Carbon
The National Forest Foundation leads forest conservation efforts—including broadscale tree-planting initiatives—in the U.S., and promotes responsible recreation.
Zero Legal Barriers
for Women
Her Justice pairs thousands of well-trained pro bono attorneys with New York City women living in poverty who have legal needs in the areas of family, matrimonial and immigration law.
Zero Children Without
Access to Education
Pencils of Promise creates schools, programs and global communities in the developing world around the common goal of education for all.
---
How

It

Works
Choose Your Option
All purchase options come with a 90-day supply of product. Only memberships include refills. You can always add refills to your one-time purchase, and you can change or cancel your membership at any time.
Get Your Izzy
Your Izzy comes in a Zero Waste Reusable Shipper with no outer packaging. A scannable QR code on the shipper will take you to our site, where you can easily access information about our products, memberships and zero waste policy.
Send It Back
Approximately 90 days after your purchase, we'll email you a reminder to send your empty Izzy back in your reusable shipper. Members receive a sterilized and refilled product every 90 days. To save the planet and a restocking fee, don't discard your empty product or reusable shipper.
---
Meet

Our

Founder
Shannon Goldberg
Founder + Chief Zero Waste Officer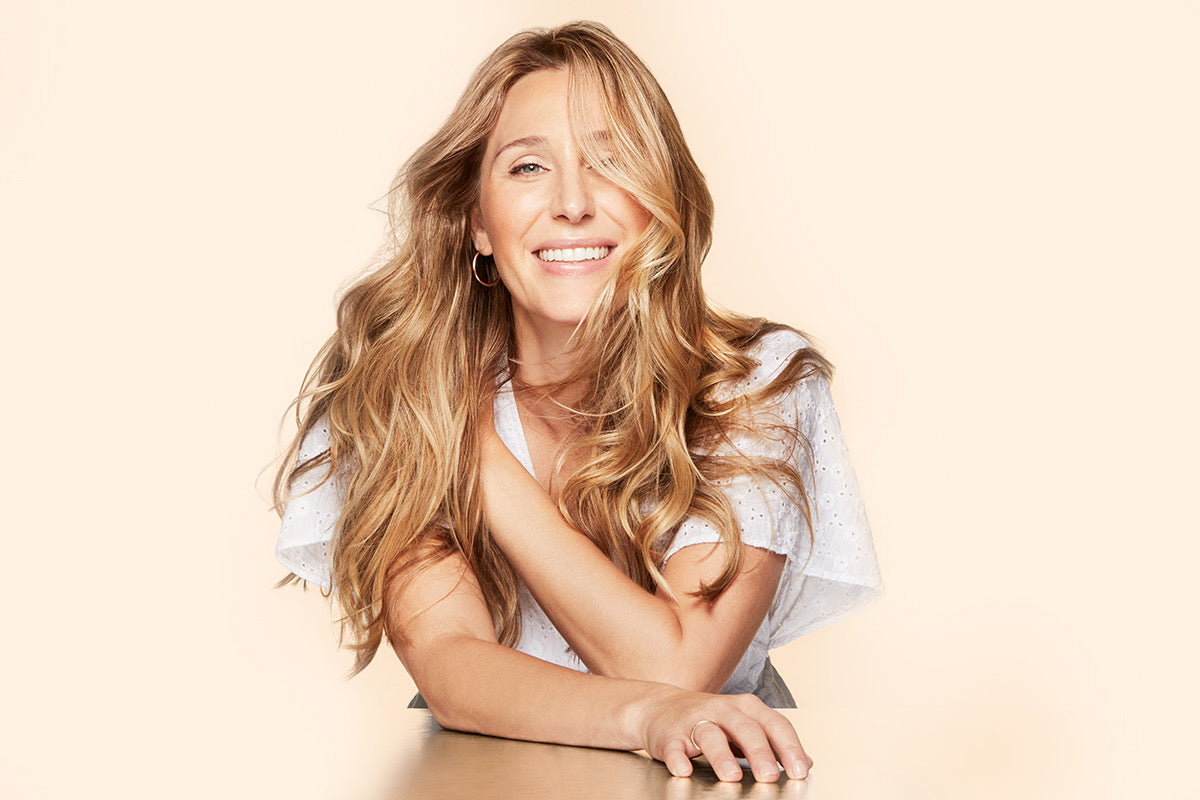 After having accrued nearly two decades of dedicated beauty experience in marketing, innovation and product development, Shannon Goldberg founded Izzy with the goal of creating a zero waste beauty brand that would contribute to a brighter future for her daughter, Emm. "I wanted to provide my daughter with truly sustainable options when it came to cosmetics," explains Shannon. "Beauty products that were clean, planet-friendly and performance-driven."
---
What Izzy

Is

(and

Isn't

)
Cruelty-Free /

Vegan-Friendly
Never tested on animals. 
No animal products in our formulas or components.
Zero Waste
No disposable packaging, shipping materials or components.
Gluten-Free
No gluten in our formulas.
Reduce, Reuse, Recycle
All components are 100% reusable and recyclable. 94% less plastic than the leading beauty brands, and all plastic components are reground and recycled at our facility.
Ethical Sourcing
All ingredients in our formulas are ethically sourced, and all our manufacturing is slave-free.
Small Carbon Footprint
A certified CarbonNeutral® product with a 78% smaller carbon footprint
after 25 refills compared to the industry standard. The more our products are reused, the smaller our relative carbon footprint becomes over time.
Closed-Loop Business
We incorporate sustainability into all business decisions and operations, and reuse the same materials over and over again to manufacture refillable beauty products that replace the demand for single-use ones.
Eco-Friendly Packaging
With no outer packaging, we're as eco-friendly as it gets.
Hygienic
Replacing your beauty products every three months helps combat bacterial buildup, the effects of environmental stressors like pollution, and the spread of germs. It also prevents the formulas from drying out or losing efficacy.
---
1. https://www.zerowasteweek.co.uk
2. http://www3.weforum.org/docs/WEF_The_New_Plastics_Economy
---